Simply Natural Certified Organic Baby Noodles with Fresh Carrot - 200g
9555208010562
Shipping Policy
Secure Payment
Data Privacy
Simply Natural Organic Baby Noodles- Carrot (200g) This Simply Natural organic baby noodle is handmade using premium ingredients: 20% fresh organic carrot puree and high protein unbleached Australian flour. It is naturally colorful, nutritious and fully organic. Thinness of 1mm, easy for congestion. Perfect choice for babies 7 months up. No added sugar, salt or MSG. Absolutely ZERO preservatives, additives, colorings & flavorings. Free from harmful chemical residuals.
Made of high quality Certified Organic Unbleached Flour from Australia
Contains 20% of Organic Fresh Vegetables Puree
Free from harmful chemical fertilisers and pesticides
Free from additives, artificial colouring and flavouring
No added sugar, salt or MSG
Ingredients grown strictly under organic agricultural standards.
Diameter of 1mm to facilitate swallowing (suitable for toddlers 7 months and older)
Produced in NASAA (Australia) & MESTI (Malaysia) certified facility
200g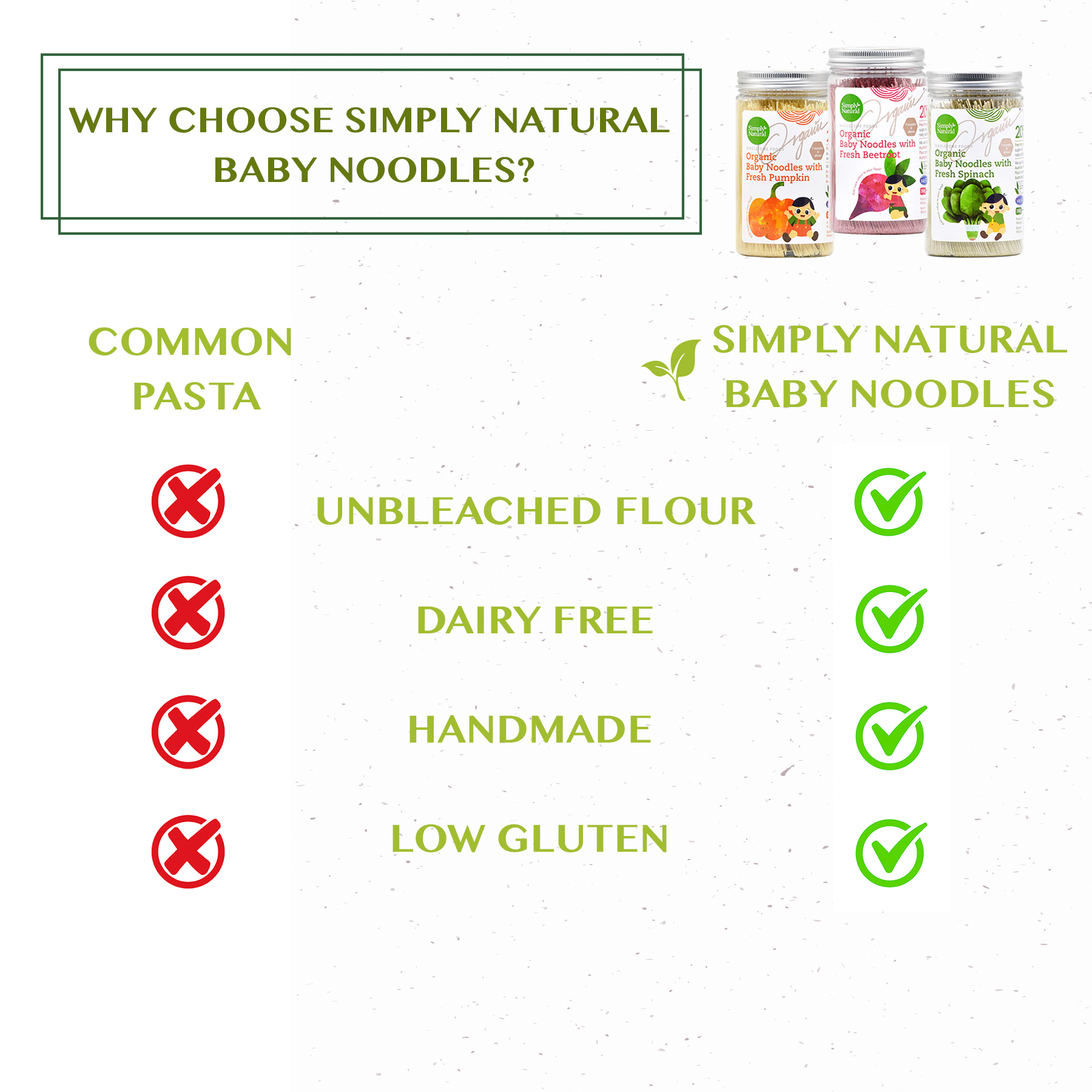 About the Brand:
Made using only high quality certified organic flour from Australia and organically grown fresh vegetables, Simply Natural's Organic Handmade Baby Thin Noodles are guaranteed to be free from artificial colouring and flavouring, the noodles exude bright colours due to the presence of a high percentage (20%) organic vegetables puree. The brighter the colour, the higher the nutritional value of the noodle. Free from harmful chemical fertilisers, pesticides and additives, these thin noodles are wholesome choices for your little ones.
No customer reviews for the moment.
Customers who bought this product also bought:
Related Products
( 13 other products in the same category )